"Hi, we're from the Guardian and we're looking for the guy..."
"Sang cheo reur chi ryo hae jur sa ram eo di eopt na ga man hi nwa du da gan kkeunh I'm eops I deot na"
"...that names himself News from Paddington and hasn't been doing his..."
"Sa rang do sa ram do neo mu na do geop na hon ja in ge mu seo wo nan it hyeo jil kka du ryeo wo"
"...duty as a rational economic agent and instead is living in some cheap student place and eating in..."
"Sang cheo reur chi ryo hae jur sa ram eo di eopt na ga man hi nwa du da gan kkeunh I'm eops I deot na"
"...in Chicken Cottage on Praed Street and pricing other people out of aff..."
"Sa rang do sa ram do neo mu na do geop na hon ja in ge mu seo wo nan it hyeo jil kka du ryeo wo"
"affordable parts of London, do you know where he is?"
"No. Also, Edgware Road is not an affordable part of London."
"Okay, thank you!"
Whew! Surprise surprise, it's News from Paddington time again!
It's also time for News from Paddington to disclose a very dark secret. In fact, News from Paddington is usually in no shape on Friday evenings to write News from Paddington and so this edition (as were multiple ones before it) has been written over the course of the whole week.
After a few weeks of not having been to Sainsbury's, News from Paddington finally went there and was rewarded with a 200 Nectar point voucher. Is Sainsbury's scared that after 5 years of productive patronage Paddington perhaps pondered preferring prestigious places? No, News naturally nominates nearer nooks. Also, alliteration.
News from Paddington's work ordered lots of hot dog assembly kits from Herman Ze German for lunch once (Herman Ze German! Our wurst is ze best!) and News from Paddington decided to keep the bucket of dried onions instead of throwing them away at the end. News from Paddington then went out to a bar with its coworkers in the evening and was stopped at the entrance by some bouncers:
"Can I look at your bag, mate?"
"Sure, here you go."
"What the heck is that?"
"That's dried onions."
"What the fuck, is that for your breakfast?"
"Yes."
"Okay, go ahead!"
Good thing they didn't find the mustard bottle!
News from Paddington thinks it has a split personality that awakens when it's asleep. This second personality is most likely a prominent member of some crime syndicate. For example:
The warden in the accommodation that houses the headquarters of News from Paddington greets News from Paddington with "How you doin', boss?"
A random guy was walking up the stairs while News from Paddington was waiting upstairs for its turn (because the stairs are so narrow). The guy finally got there and said "Good afternoon, sir"
News from Paddington went with some of its friends to Bobajam (a bubble tea place on oh who the fuck knows street, just go to Chinatown and follow flocks of Asian girls. If you get stopped by the police, do not mention News from Paddington) to get some bubble tea. There, they saw a girl that they all knew. They said hi to her and sat down at her table. The girl proceeded to stand up and leave without saying anything. Later on, her friends came in looking for her because they were supposed to meet there. She had disappeared. Is News from Paddington's second personality really good with the ladies? Or really bad with the ladies? Find out in the next edition!
Culinary adventures with News from Paddington!
Nandos in Croydon! Pros: Nandos. Cons: Croydon. It's good!
DIY fajitas from M&S on Edgware Road! In this exciting resource management game, you have to allocate some chicken, vegetables and sauce amongst 4 tortilla wraps and eat them all! Try not to run out of either of those things! It's really good!
Melur on Edgware Road! It's really Malaysian! Also, it serves bandung! They have banned all dung from this drink and so it's quite good!
This week's cocktail is the Sidecar! Named after where relative to your car you should be after drinking it, it's made out of 2 parts Grand Marnier, 5 parts cognac, 2 parts lemon juice, some ice and a plastic cocktail shaker from Sainsbury's. Don't eat the cocktail shaker! It's good! The cocktail is good too!
McDonald's on Edgware Road! Like many McDonald's restaurants in London and unlike the McDonald's restaurant in Cambridge, you can order your meal on a terminal and then collect it without saying anything more than a "Thanks!" Very useful when you are as drunk as a News from Paddington on a weekday. McDonald's on Edgware Road! It's really good!
Wanna know how News from Paddington got these scars? News from Paddington tried to jump into a Tube train as the door was closing. It succeeded. The door succeeded too.
In other news, Tube on the weekends is amateur hour. "Covent Garden! Covent Garden!" -- some kids boarding the Piccadilly Line train at Leicester Square (known for being 100 metres away from Covent Garden). "Boy, getting through these ticket gates sure was tough! Better stop right here and have a little rest!" "Goodness, what could 'move down inside the carriage' possibly mean?" "I see this guy is mashing his wallet on this yellow spot and going through the gates, I should do the sa... oh God why are my ribs broken"
News of Paddington's song of the week is this -- especially see 1:48 when the guy goes full-on Scatman.
This edition of News from Paddington was brought to you by Surprise Surprise on Edgware Road. "Surprise Surprise on Edgware Road: Surprise Surprise! It's Surprise Surprise!"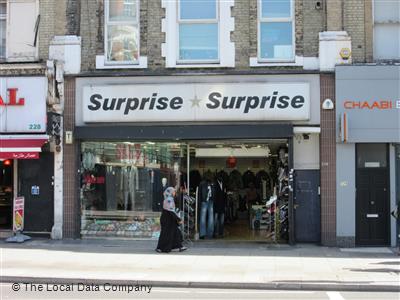 (originally from citikey.uk)